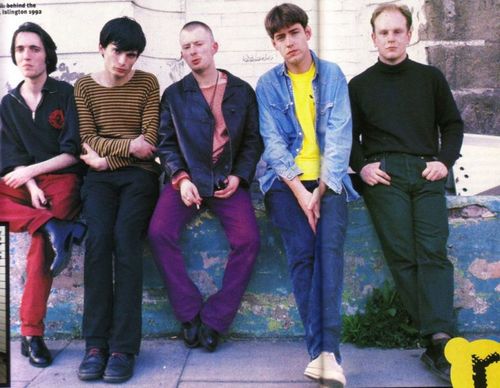 Radiohead are an English rock band from Abingdon, Oxfordshire, formed in 1985. The band consists of Thom Yorke (lead vocals, guitar, piano, keyboards), Jonny Greenwood (lead guitar, keyboards, other instruments), Colin Greenwood (bass), Phil Selway (drums, percussion, backing vocals) and Ed O'Brien (guitar, backing vocals). They have worked with producer Nigel Godrich and cover artist Stanley Donwood since 1994.
Radiohead released their debut single "Creep" in 1992. It became a worldwide hit after the release of the band's debut album, Pablo Honey (1993). Their popularity and critical standing rose in the United Kingdom with the release of their second album, The Bends (1995). Radiohead's third album, OK Computer (1997), propelled them to international fame; with an expansive sound and themes of modern alienation, it is often acclaimed as a landmark record of the 1990s and one of the best albums of all time. The group's next album Kid A (2000) marked a dramatic evolution in Radiohead's style, as they incorporated influences from experimental electronic music, 20th-century classical music, krautrock, and jazz. Despite initially dividing fans and critics, Kid A was later named the best album of the decade by Rolling Stone, Pitchfork and the Times.
Amnesiac, consisting of tracks recorded during the same sessions as Kid A, was released in 2001. The group's next album, Hail to the Thief (2003), a mix of rock and electronic music with lyrics inspired by the War on Terror. It would be the band's final album for their record label, EMI; their subsequent releases have been self-released. Radiohead released their seventh album, In Rainbows (2007), as a download for which customers could set their own price, to critical and chart success. Their eighth album, The King of Limbs (2011), was an exploration of rhythm and quieter textures. Their ninth album, A Moon Shaped Pool (2016) features strings and choral vocals and was released through digital music services once again to critical success.
Radiohead have sold more than 30 million albums worldwide. Their work places highly in both listener polls and critics' lists of the best music of the 1990s and 2000s. In 2005, they were ranked 73rd in Rolling Stone's list of "The Greatest Artists of All Time"; Jonny Greenwood (48th) and O'Brien were both included in Rolling Stone's list of greatest guitarists, and Yorke (66th) in their list of greatest singers. In 2009, Rolling Stone readers voted the group the second best artist of the 2000s.
More information on Radiohead can be found at Wikipedia.
Also, make sure to check out our guide to Radiohead's Oxford!